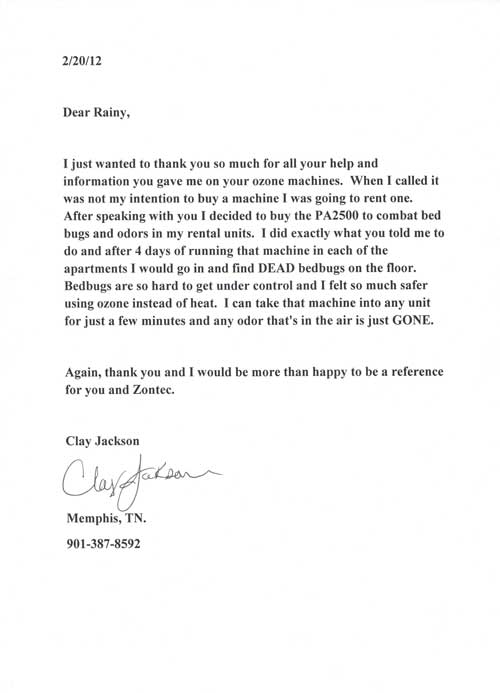 Nothing was a sure fix until we purchased our first (Zontec) Ozone Generator and this is the purpose for my comments.

Let me tell you, it solved our problem within a few days and in doing so it made us happy, our guests happy and even our housekeepers happy. That's a trick in itself! We now have four machines, one for each service cart and our staff uses them each and every time they service a guest room.

There is much emphasis placed on "environmentally" clean rooms which obviously includes air quality. Guests no only appreciate but demand fresh smelling / non smelling rooms and your Ozone machines allow us to exceed their expectation. Even our AAA Field Inspector was very pleased to see our staff use them.

Bob and Cheryl Kane
Ladd Brook Inn
I absolutely swear by it. By washing the bedspreads and using the (Zontec) Ozone Generator you can turn a smoking room into a non-smoking room.
I'm sorry if I sound like a commercial but I really do like how well this machine performs.
Greg Stauffer
Quality Inn
I just wanted to let you know how pleased we are with the (Zontec) ozone equipment we purchased from you. It has performed flawlessly.

The ideal situation is a room with no odor. We have been able to achieve that with the ozone equipment your company provided. We treat every occupied guest room daily and feel that this is an integral part of the formula that helped us to receive a Circle of Excellence Award in 1992 from Hampton Inns.

I hardily recommend your product to anyone in the hotel business.

Clark Byram
Hampton Inn
About a year ago we purchased a portable Zontec machine to try out in our guest rooms instead of air freshener. The housekeeper and guest response was so positive that we purchased a unit for each of our housekeeping sections.
We are extremely happy with the results. The units are used daily in each room to ensure that the rooms smell fresh when the guests check in. We have also utilized the units in the conversion of smoking rooms to nonsmoking rooms with excellent results.
I would highly recommend that any hotel consider these units are replacements for their current air fresheners.
Victor G. Martin, C.H.A.
Best Western
As you know, guest satisfaction is high priority in the hotel / motel industry. Providing a "fresh air" atmosphere in each room not only pleases our guests but encourages out guests to return.

Purchasing the Zontec PA200 was a sound investment. With its easy operation and effectiveness in eliminating offensive odors, the unit is well worth the initial cost.

After using the unit for a short time we received many compliments. Guests are enjoying the odor free rooms and are pleased with the "fresh air" smell.

I would personally encourage other companies to try your equipment.

Spiro Pappas
Howard Johnson
It saved us a great deal of expense and time in converting these suites (to non-smoking suites).

We asked our non smoking staff members to try and find any offending odors, they could not.

We are using this machine daily in our suites and plan another purchase in the near future.

I am sure that for the price, compared to the money spent on chemicals for suites, that other hotels will see where they can save when they try your product and keep their suites fresh.

Mike Perry
Marriott Residence Inn
I wanted to contact you to express the delight we have experienced in your product. It is extremely refreshing to finally have a product live up to the claims of its manufacturer.

We purchased a (Zontec) PA200 in September and have been thrilled by the performance and ease of operation of your equipment. We have the room attendants turn the machine on for 15 minutes wile they are cleaning the room and all odors disappear. I challenge anyone to go into a room that has had a Zontec unit in it and detect any smoke or perfume odors.

We have been able to do away with carpet and room deodorizers and are actually saving money by using your product. I encourage all other Choice Hotel franchisees to try your equipment. I'm sure they will become loyal customers.

Robert G. Barton
Comfort Inn
I wanted to write this letter to you to express our thanks for the wonder product that we purchased from your company.

The housekeeper now has each of our attendants carrying one of the units on their cart. The first thing that they do upon entering the room is plug it in and turn it on. By the time they are finished with the room and leaving, the room is completely free of all odors Our housekeeper says that you would think the window had been left open for the day.

All in all we are very happy with the Zontec, as it has helped to eliminate guests complaints on stale odors in the rooms and the lobby area.

Tom Nelligan
Days Inn
This is actually our second Zontec (PA200), our first unit went home with someone that was as impressed with it as we were. Needless to say, we keep a closer watch on this one!

Jim Eblen
Village Lodge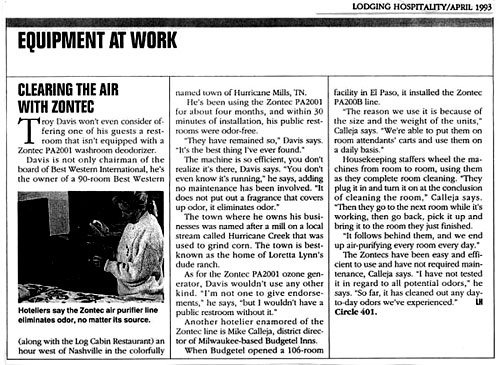 We love the pure air while sleeping.

Sincerely,
Estelle Marek
CLEANING AND RESTORATIONS
I was a little skeptical when first approached on the possibility of purchasing a Zontec unit for the disaster restoration work we do.

After a couple of months using this particular unit I must say it worked as you said plus more. The unit is easy to use, extremely well constructed and accomplishes the odor removal very quickly. It has paid for itself within a short time period.

I must take this opportunity to thank you for being a true customer oriented person. When I had questions on this unit or in need of filter or cleaning kit all was taken care of quickly. Again I thank you for introducing me to the Zontec line and would recommend others to purchasing a unit for their own particular needs.

George A. Galipeau
Servicemaster
Residential/Commercial Cleaning Services
We are so lucky to work with great companies but realize the companies are good only because of their personnel. You definately fall into that catagory. I would consider it a privilege to take you to lunch the next time you come through Atlanta.

We are a cleaning/renovation company. The safety of our employees is of the utmost importance to our company. When as we are working on a job site, if we have introduced any chemicals, paint, or installed new carpet, etc we run the Zontec PA600 in the evening. When we return the next day we can enjoy a clean safe air environment.

Thank you for a great product.

Nancy Green
Evergreen Enterprises
RESTAURANT and FOOD SERVICES
The washroom had a very strong odour and we decided to try the Zontec ozone generators. The (Zontec) unitwas able to solve the odour problem in the washroom. It proved to be an effective answer to the problem.

Janet St. George
McDonald's Restaurants of Canada Limited
We have been using your washroom deodorizer (the Perfect Air Plug-In) in the restrooms in my restaurant for some time now. I just wanted to let you know that it is working out well for us. Several other remedies have been tried in our restrooms but none have performed as well as your ozone unit. Besides its actual performance is unmatched, it is also the most "labor-free" method we have used. Unlike regular cleaning methods that require hourly or daily attention, we like that the ozone generator operates with minimal attention.

I highly recommend (the Zontec unit) to other restaurant and motel operators.

Troy W. Davis, CHA
Chairman of the Board
Best Western International
Since purchasing the O3 Air Purification System (by Zontec), we have noticed remarkable changes. First, it eliminated virtually all of the odour in the lounge from cigar and cigarette smoke. Secondly, we turn the O3 generator up to max overnight (the programmable timer shuts the machine off about 2 hours before we come in) and in the morning the bar and grill smells fresh, as though someone had cleaned it overnight.

The third advantage, and I'd say the most important advantage, is that we have had nothing but positive comments about the 'fresh' air smell from our customers.

I highly recommend the O3 Air Purification systems to any restaurant, nightclub or bar owner who is interested in providing a 'fresh' air environment for their customers.

Robert Kroon
Black Rhino Bar & Grill, Calgary
REAL ESTATE & PROPERTY MANAGEMENT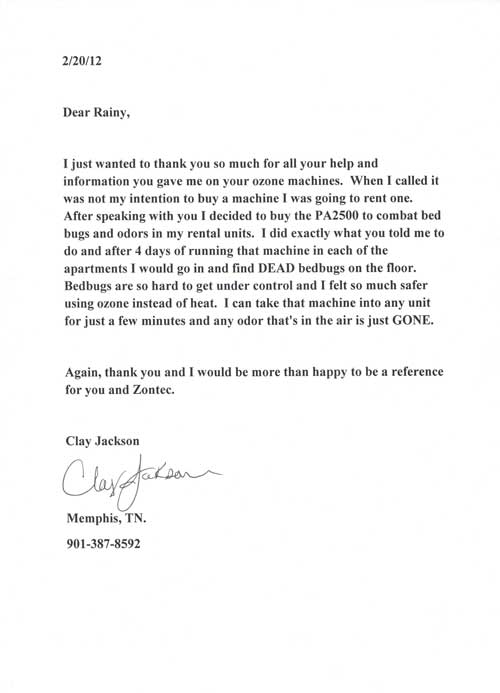 I just wanted to let you know how much we are enjoying our Zontec, Model PA200, air purification device. Since two of my staff are smokers which can be very annoying to potential clients, we needed something to clean the office air between appointments. This device works very well for us. The rest of my sales associates are non-smokers and we always ask them if they can smell stale smoke. When they can't notice it, we know the machine is doing its work.

We have only had one occasion to take the machine to a home to prepare it for showing. There had been a water leak in a basement family room and there was a bit of a musty smell left. The machine took care of it nicely.

Lois C. Langtry
Gold River Realty
COMMERCIAL & INSTITUTIONAL APPLICATIONS
The Paragon O3 Air Purification System (by Zontec) is a must for any athletic club with locker rooms, weight rooms, exercise rooms, loungesany area that needs to eliminate odours, permanently.

Kevin Doucett
Heritage Square Fitness & Racquets Club
We have a designated smoking area in our office. It has always been a contentious issue with both smokers and non-smokers alike.

Since running the unit as per instructions both sides to the issue have commented how much better the air smells (or, doesn't). It is the opinion of everyone, that not only does this O3 Air Purification (by Zontec) work with remove smoke odours, but that the entire office has a fresher smell.

It works just as you stated. It is our collective opinion that the O3 unit is well worth the investment.

Sherwood J. Young
Greymantle Industries Ltd.
I would like to comment that the Zontec…ionizers (the Perfect Air Plug-In) installed in our restrooms have made an appreciable difference in the air quality to our traveling public. In addition, we anticipate annual savings because the need to purchase air freshener and urinal blocks has now been eliminated.

I have received positive comments about the changes. The restrooms smell fresher and cleaner.

Tom Makela
Thunder Bay Airport
Transport Canada
I would like to comment that the Zontec…ionizers (the Perfect Air Plug-In) installed in our restrooms have made an appreciable difference in the air quality to our traveling public. In addition, we anticipate annual savings because the need to purchase air freshener and urinal blocks has now been eliminated.

I have received positive comments about the changes. The restrooms smell fresher and cleaner.

Tom Makela
Thunder Bay Airport
Transport Canada
We installed the Zontec Ozone Generator in our recycling plant on May 31, 1993, and since we have installed this unit, it has made a drastic change in our employee's working environment.

The unit is very simple to operate, we just set the timer on the unit and it runs all night when no one is in the building. Upon opening the building in the morning, the recycling area is virtually odor free.

The unit has solved our odor problem and we highly recommend the PA1200 Ozone Generator to any recycling business.

James M. Foote
Pepsi-Cola
We had your (Zontec) Ozone Air Purification Unit installed several months ago and I am writing to let you know that we are very pleased with the results.

Working with people with compromised immune systems, we are always conscious of air quality. Cold and flu season came and went with barely any of our staff needing time off and people have remarked that the air quality seems greatly improved.

We would definitely recommend this system.

Paul Laybolt
Aids Coalition of Nova Scotia
We have used the bathroom size Electronic deodorizer (the Perfect Air Plug-In) in one of our heaviest use public bathrooms for over three months now.

We find it to be much more effective that any deodorants that we have used in the past, and we have used a lot of different brands. The environment is now much more pleasant in this particular restroom.

I have not received one single complaint about foul odors from this restroom since the installation of this unit.

Thanks for your help in solving this problem!

Timothy S. Elder
A. Barton Hepburn Hospital
Our rental store purchased a Zontec PA2500 ozone generator at the Rental Mart Show in Toronto. This particular machine has been rented out several times for different applications; eliminating musty, mold, and mildew odors from flooded basements to removing embedded smoke and other odor problems inside cars. One lady even rented it to eliminate odors from an antique couch she had recently purchased.

We believe in this product and have just purchased additional equipment. I would personally encourage other rental stores to add this to their equipment line up.

Brett Moroso
Access Rentals & Supply Limited
Your Lab-Air 9.8 (by Zontec) machines have proven to be excellent in overcoming the foul odors involved with storing narcotics and articles of clothing with body fluids.

In my twenty-two years of experience in storing evidence, this product is by far the best we have tested.

Lester P. Ditto
Memphis Police Department
City of Memphis Tennessee
When I took over the evidence room in June of this year I discovered that no evidence had been destroyed in over 2 years. I had hundreds of pounds of marihuana and other chemicals in a relatively small room. Also, the previous technician was a smoker. The Lab Air (by Zontec) was placed on a high shelf and left on continuously beginning on Thursday evening. On Friday, the smell was much better. But by Monday morning the odor was gone.

As a matter of fact, our departments Chief Deputy was so impressed that we are ordering two of the smaller units.

Deputy Bernadette Lambert
Denton County Sheriff's Department
Denton, Texas
We are please to report that we have been using the midsized Lab Air (by Zontec) machine for the past six months in our Evidence Storage room. Before that time the property custodian was experiencing severe headaches and other problems due to the smell of the marihuana stored as evidence. Since the installation of your machine she can work in that area without any adverse problems.

Deputy Chief Ralph O'Connell
City of Elmhurst Police Department
Elmhurst, Illinois
Thank you for your help locating the Zontec PA200 air deodorizer. On a recent trip to Michigan for work, I became very ill due to the cleaning products and spray deodorizers used in my hotel room. The window wouldn't open so I called housekeeping to ask for help to get fresh air.

Housekeeping brought the PA200 to my room and treated the room. After just fifteen minutes there was a noticeable difference in the room. It was amazing! They allowed me to keep the machine in the room to run it once a day for most of the week. The machine was taken out of the room for two days and on those days I was very sick again. As soon as the machine was returned and cycled, I recovered. It was amazing!

The Zontec PA200 is a great product that I intend to use in my office and home. In the future I plan to take it with me on business trips because not all hotels use this remarkable product.

Thank you again for your help.

Terese Buchanan
AUTOMOBILE CLEANING and DETAILING
We have been struggling with a solution to eliminate the smoke odor in our used vehicles. You convinced me to try your product, 30 days trial and prove you right or wrong.

I personally selected several vehicles with strong smoke odor and ran the Zontec PA600 overnight and it worked! My lot attendant runs a vehicle with the AC on for 20-30 minutes, then 10-12 hours with the Zontec and all I can say is it works! For light odors 1-2 hours is all that is necessary.

Randy White
Phil White Ford, Inc.
I must say that we were skeptical when you suggested we try the Zontec PA600 to remove tobacco and other odours from trade ins.

However, the PA600 has proven to be the most effective way to remove odours from used cars and has enabled us to turn many a problem used car into a profitable used car.

The unit has paid for itself many times over in both higher resale prices and quicker turn over.

We would highly recommend the purchase of a Zontec PA600 by any dealer that wants to get the best price for his trade ins.

Dan Donnelly
Donnelly's Ford
Dear Zontec,

I run a fibromyalgia (FMS) clinic. These patients all suffer from multiple chemical sensitivities. Their illness is greatly helped by avoiding exposure to molds, mildews, and fumes from materials such as paint, sealants, carpet dyes, glues, and a hundred other household items. I use your PA 600 as a patient loaner. They decontaminate their homes, one room at a time, by running the unit full blast for a day while they are gone. This is a very important factor in their recovery. The ozone seems to be capable of speeding up the curing of a wide variety of agents toxic to my patients, far beyond just molds and mildews. More information about these issues is at www.beyondfibromyalgia.com

I think the PA 600 is just powerful enough to be effective for this kind of duty, and I would recommend it to any environmentally sensitive person with the caveat that the ozone itself is going to be toxic to them, so they should air out the area before using the space again.

If you would be so kind as to make me a dealer, I would be happy to sell the unit to patients at my cost, as a much needed service to them. Keep up the good work, Zontec.

Best Regards,
Dr. Charles Bates

PS: Did you know that, each time you give your clothes closet a heavy dose of ozone, the odors clinging to used shirts are removed? This saves me money on laundering, because the shirts smell fresh for months, and only need to be washed when a collar ring begins to appear. Kind of funky to be sure, but it save a lot of trips to the cleaners!